WHFF's Investigation Team Work Pays off — Ayache Indicted!
News
From Wild Horse Freedom Foundation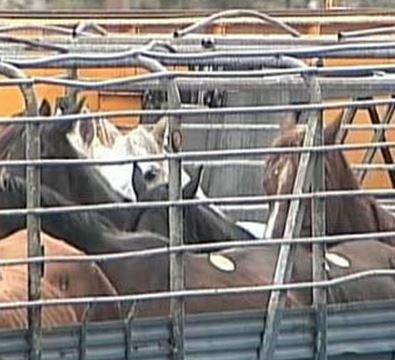 Our investigation team's work pays off – Ayache Indicted!
Last year, we provided several updates on the progress of the Ayache [Three Angels Farm] investigation. In July of 2012, WHFF & EWA reported that 5 complaints had been filed against Ayache for USDA transport violations but no charges had been filed.
Yesterday, Nancy Amons at WSMV reported that Dorian Ayache had been federally indicted.
Former Three Angels Farm owner indicted on federal charges
NASHVILLE, TN (WSMV) -The man behind the Lebanon trucking company shuttered last year by the federal government after two interstate mishaps involving trailers loaded with horses headed to slaughter is in trouble again.
Dorian Ayache has been indicted on a long list of federal charges, including continuing to truck horses to slaughterhouses along the Mexican border even after his trucking company was shut down, and trying to destroy evidence.
Also charged is the owner of a second company, Theresa Vincent, who the government says continued the trucking operation, just under a new name.
WSMV Channel 4
Ayache first came to the Channel 4 I-Team's attention in early 2012 when a load of horses he was hauling to slaughter tipped over on the interstate……….You can read the full article and comment at the below link.
http://www.wsmv.com/story/23419937/former-three-angels-farm-owner-indicted
Link to the indictment and warrants
http://equinewelfarealliance.org/uploads/Ayache_Indictment.pdf