Willie Nelson Signature Series Horses
News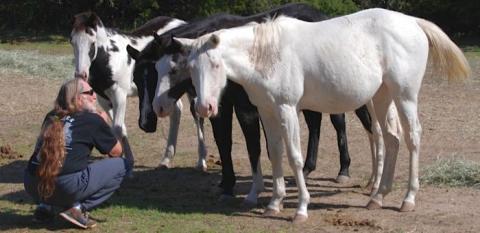 Not many know of a very special place called Luck, Texas. It's a spot on the map outside Austin where many of the horses were rescued from various ordeals, situations, abuse and neglect by Habitat for Horses have been offered the opportunity to reside on a peaceful ranch nestled in the Texas Hill Country. Here they live free of their respective traumas at the home of an American Icon… Mr. Willie Nelson, a Country Music Legend. Mr. Nelson and his daughter, Amy, have long been lovers of horses as well as faithful supporters for the rights of horses. Mr. Nelson has graciously offered his home, a stunningly beautiful ranch in the Texas Hill Country as a safe haven for some of God's most amazing creations.
After driving through the unassuming front gates of this several hundred acre ranch, you realize that Mr. Nelson has transformed his ranch into a cowboy's dream getaway of western lore with its very own Old West Town. Just up the hill stand grazing about twenty of the most gorgeous paint horses of every color imaginable. As one stands among such magnificent creatures, the understanding that the man to thank for giving these beautiful horses a place to call home, whose music a nation has come to love, is none other than Willie Nelson with Jerry Finch, President of Habitat for Horses Willie Nelson-what a magnificently unselfish thing this man has offered these horses, out of nothing less than an unconditional love of the magic he knows each horse has to offer.Through the diligent efforts of Mr. Nelson, his daughter Amy, and Habitat for Horses, more than 70 of the horses rescued throughout the years by Habitat for Horses have been able to call his beautiful ranch their home. Here they have healed in body, mind and spirit and have flourished beyond our greatest expectations. Now a rare few are ready for their very own forever loving home with a family to train them and allow them to become their best friend.
Habitat for Horses would like to introduce to you:
The Willie Nelson Signature Series Horses.
Call us to find out more information call us:
866 434 5737.